Location & Axarquia Map
Casa Granadina rural accommodation with bed and breakfast is in the Axarquia region of Andalucia in the south of Spain.
Getting there
I recommend a return air flight to Malaga. There are many cheap scheduled flights available.
It is advisable to hire a car at the airport. There are a variety of companies offering good service. Try
www.tonysrentacar.com.
Directions on how to find us will be sent to you on booking.
Google map | Bus and taxi | Access

Map of the Axarquia region
(Please click on the map to enlarge it)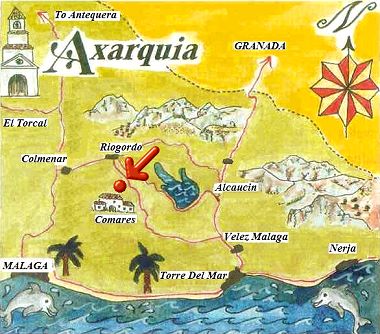 Arrive at Casa Granadina by bus or taxi
From the airport you can take a taxi, or transfer via bus to Riogordo. I can meet and return you to Riogordo at the beginning and end of your holiday.
A bus leaves from the airport to the bus station in Malaga every half hour.
Bus from Malaga to Riogordo
On Saturday and Sunday the buses leave Malaga at 11:00, 13:00, and 19:00
and on weekdays at 8:00, 9:00, 12:00, 13:00, 15:00,18:00 and 20:00.
The bus for Riogordo leaves the main bus station at stand 32. Journey about 45 min.
Bus from Riogordo to Malaga
Saturday and Sundays 9:30, 12:00, 17:00
weekdays at 7:00, 7:45, 9:00, 10:00,14:00, 15:45, 19:00
The fare is approx 3.82 euros.
Rural accommodation Casa Granadina on a larger map
Access
Access to the rural accommodation Casa Granadina near Malaga is over a river bed which is passable for about 99% of the year. After heavy rains it may be necessary to use the foot bridge to gain access to the cottage. Please ask if you are concerned about this.