Granada
The magnificent "Alhambra" along with the "Generalife" Gardens are the main attractions of Granada but the city has many other things to offer.
The "Albaizín" is the old Arab quarter where you can get the feeling of being on another continent as you browse round the ethnic shops or take tea in a teateria.
The "Sacromonte" is the old gypsy area where there are still many cave dwellings. This is the area to head for if you want to hear some authentic flamenco.

Granada & Alhambra Info
For more information on Granada and to book your tickets for the Alhambra Palace go to:
www.granadainfo.com/ticketsalhambra.htm
or phone
902 22 44 60 from within Spain or
00 34 915 37 91 78 if you are outside Spain
Please click on the photos to enlarge them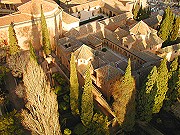 Alhambra of Granada, aerial view
Testimonials
Rooms: so good...
Food soooooooo good!!!.....and Rosie......simply >>
Sara, Fabia, Anna, Anna
read more testimonials >>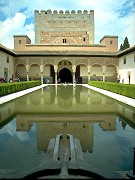 Alhambra of Granada, inside