Comares
We are surrounded by beautiful mountains and countryside, perfectly situated for walking amongst the olive, almond and citrus groves on local walks.
The surrounding area is transformed in February when the almond blossom appears like candy floss on the hills, followed by carpets of wild flowers from April to June, a long hot summer and an autumn of clear skies and temperate weather.
Comares
Comares is a white village in the Andalucian moutains, about 20 kilometres form the busy Costa del Sol. The village is spectacularily located on the top of a mountain.
From Comares you can enjoy magnificent panoramic views of the mountains, ridges dotted with whitewashed farmhouses, fertile valleys, and in the distance, Velez-Malaga and the Mediterranean coast.
Explore the labyrinth of narrow alleyways and you can easily imagine you are back in Moorish times.
Comares is famous for its particular style of "verdiales", the wild, raucous music native of the "Montes de Malaga".
If you want to know more about Comares go to www.comares.webs.com and www.turismocomares.es.
Please click on the photos to enlarge them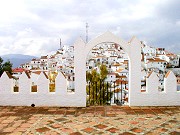 Comares Moorish fortress
Testimonials
Eric and Sandy from the United States stopped over at Casa Granadina >>
Eric and Sandy
read more testimonials >>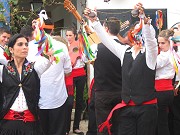 Comares, Verdiales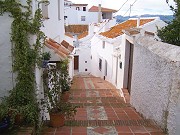 Comares (Málaga), street